Infrastructure and Planning Consultation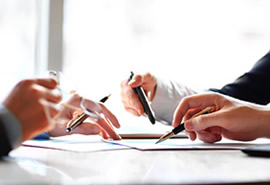 Our team takes into account both the relevant technical aspects of the project and its financial, as part of an approach to recognizes the client investment in setting up and improving IT infrastructure in other to improve performance, save in time and money to get an excellent productive result.
As the field of IT infrastructure constitutes an important and essential slice of business operations. Our team of experts provides forward-looking advice toward client decision making to ensure excellent and secure investment for our client.
Design and Planning
We offer rich and diverse expertise in almost all aspect of IT and computing fields, innovative, creative in thinking, and proven technological capabilities to all their projects. Due to our years of excellent services, the company's and clients ask for our services and consult with us on large and complex projects and in processes relating to the implementation of IT infrastructure.
We accompany leading and upcoming organizations and provide them comprehensively, professional advice on an extensive array of infrastructure matters, including the installation of Security and Hardware infrastructures. Among the areas on which the company provides consultation, you can find:
The enterprise communication network
Mail systems (Servers)
Company Automation
Information management projects
Information security
Setting up and managing servers
As part of our process, Our team visit the client premises, mapping their needs and planning an appropriate infrastructure system for them, and offering solutions for implementation. In accordance with the client's requirements, company experts work on implementing the recommendations and on managing the desired project. They also advise on infrastructure products on the market that would suit the client.